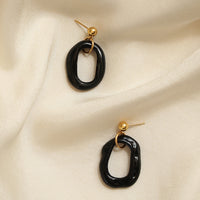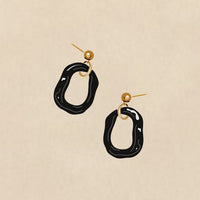 ECO-COLLAB: BLACK SEA EARRINGS
From skincare to jewelry—we've partnered with our friends at CLED to upcycle your used TOWN & ANCHOR face oil bottles into gorgeous, biophotonic glass earrings.

By upcycling natural materials that already exist into items we can have for a lifetime, we're choosing to live a more sustainable life.

"The world generates at least 3.5 million tons of plastic and other solid waste a day. Most of this trash is in our landfills and is not going away. Using recycled materials emits fewer carbon emissions, reduces energy consumption and requires less water. There are fewer steps in the recycling manufacturing process compared to manufacturing new materials from virgin sources."
—Cled

To further our effort to be a part of the solution, 10% of all earring proceeds are donated to Environmental Defense Fund.

To upcycle your used face oil bottles into jewelry, please contact us here.


—SOLD AS A PAIR
—BIOPHOTONIC GLASS, 1.5" X 1"
—14K GOLD PLATED—HANDMADE IN LOS ANGELES, CA